Things Change… OR DO THEY?
Dear Mom and Dad…
Today is October 2nd, and on this date in history this man was born…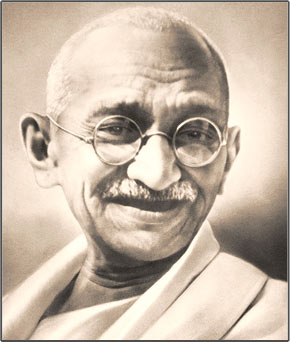 This is Gandhi, as you probably know,
Nana says he was born on this date in 1869.   History tells us, he wanted to promote peace… and he died trying to do that….Some things change so fast, like me growing, or learning new things, but other things seem to never change, or take forever to change.   I wish that there were peace on this planet everywhere.   Call me silly, or tell Nana, she is a dreamer.. but the sooner there is peace the sooner, my mom and dad come home to me.   Lifetimes seem to come and go, and the change is not always fast enough nor does it seem enough, but we keep trying… all of us are in this together, and we all need to keep on trying….
Nana put up this photo, of this face because, she has done her history homework….and she says, if this face could not bring us peace  –  she thinks she may just have a solution,  …  BELOW IT, OR ABOVE IT…she says, the pictures above his and below represent the face of peace, the face of happiness, and the face of our future…. if everyone on the planet could just see the faces of all the little children… and know…. they are why we need all mommy's and daddy's home… with their children… living in peace.
You know I just wanted to tell you both I love you very much, and as I approach my tenth princess-versary,  in just a few days, I realize that in just about eight weeks, I will be done with princess-versaries, and will have my VERY FIRST BIRTHDAY!   From there on, we will celebrate every year my birthday celebration on December 4th!   In just about 8 weeks (hopefully) we will get a to have our special  'visit'.  
I cannot wait!
In these past few months  – much has changed for me as you can see.  When I came to camp I was an infant sleeping quite a bit, and now, I am a baby who SLEEPS NOT!  I am a sponge who absorbs EVERY THING AND WANTS TO MISS NOTHING!   I have three teeth.  Two on the bottom and one that has just come thru on top.  (with more to follow quickly it seems)  I am eating all kinds of great foods… and loving every second of trying new things.  Tonight we met Great Papa and GG-ma and guess what, I tried an itty bitty bit of Hagen Daz ice cream.. and CAN I JUST SAY –  LUV IT!  
Today we stayed at camp until our meeting at the mall to see the Great Grandparents… Nana had to get Aunt Arri some back to school stuff and we grabbed food at the food court… but for me it was a first time trip to that mall and there was plenty of EYE CANDY EVERYWHERE.   We only went into one store, but it was full of decorations for the holiday's and I was all a flutter with excitement over the lights, and sparkles everywhere.  Nana took some photos to day to show you my princess personality.  So enjoy the many faces of GUILLIANNA Princess of Personality!
THE FACE OF HUMANITY, PEACE, FREEDOM
THE FACE OF FREEDOM TO CHOOSE!
THE FACE OF HAPPINESS – OR THE PURSUIT THERE OF!
THE FACE OF HUMAN COMPASSION, UNDERSTANDING, AND  TOLERANCE
THE FACE OF LEARNING, OF LIVING LIFE, AND OF OPPORTUNITY
I am the face of all that is pure, all that is innocent, and all that is good.   I represent the face of freedom, of tolerence, of hope and of promise.   I am every son, I am every daughter, and  a reminder that life holds for us children,  opportunity beyond measure.   I am a very lucky child.   Nana and Poppy have six children, and all six of their kids, as well as myself…have all of these same 'faces'.   It matters not what religion you are, what culture you are from, it matters not where you are from…. being good to people, being a good person…. and giving of yourself, to improve the quality of the life of another…  each of us in our own way, can make this world just a bit nicer.  Until tomorrow Mom and Dad, I am as always, your Little Miss Adorable , your daughter who is praying for peace and your safe return, just one of many children… who have a mom or dad there in the land of sand or elsewhere.    I am, your sweet little LMA,
THE FACE OF PURE AND INNOCENT LOVE!
Guillianna!